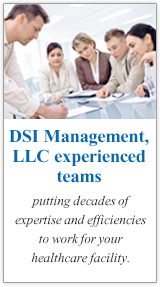 DSI Management, LLC - a leader in Healthcare Management since 1982.
With its Corporate Headquarters located in Central Florida, DSI Management, LLC specializes in the management of communities for the elderly, residential and community training programs for the developmentally disabled, and a full range of healthcare services to individuals in their homes.
DSI Management, LLC provides comprehensive management services including:
» Administration
» Financial
» Quality Assurance and Performance Improvement
» Human Resources
» Risk Management
The DSI Management Philosophy
Our philosophy is precise and focused:

to promote quality resident-centric care and services that optimize clinical outcomes and quality of life;

to promote a caring, ethical culture; and

to operate efficiently for optimum outcomes, growth, and profitability
For further information regarding DSI Management, LLC, please click here or call 407-645-3211.